March 2012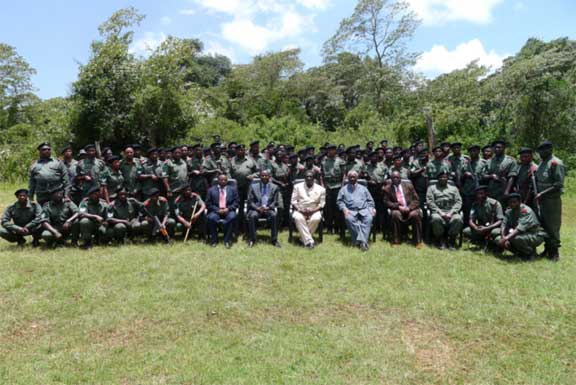 MSEKWA CALLS FOR YOUTH INVOLVEMENT IN RESOURCES PROTECTION
Protection of natural resources is one sector which can guarantee the youth ample employment opportunities, the board chairman for Ngorongoro Conservation Area Authority Honorable Pius Msekwa stated here.
Honorable Msekwa was speaking at the Mbulu-Mbulu ward's training base for the forest and wildlife rangers working with NCAA, during the occasion in which a total of 145 such wardens were graduating from special training over the weekend, in Karatu. "Wildlife and other forms of natural resources are the main source of the country's revenue, the base for the tourism industry as well as national's responsibility in protecting the world's natural heritage on behalf of the whole earth," said Honorable Msekwa, adding that protection of such resources was not something to be taken lightly. "And there is no limit on how much we should spend in ensuring that these important heritages are well taken care of," said Honorable Msekwa adding that with shortage of manpower to undertake the tasks, the youth population in the country should be trained to take up such jobs.
The special training of rangers as well as other tourism personnel from the Ngorongoro Conservation Area Authority was being undertaken by Commander Venance Bruno Tossi who heads the special unit to stop indiscriminate killing of wildlife, illegal export of live animals and other vices targeting the country's natural resources.
"We have already conducted these training series at Selous Game reserve, Serengeti National Park and now we are at the climax of training for the 145 personnel at the Ngorongoro Conservation Area Authority," stated Commander Tossi. He said the training included how to combat poachers, following their trail, proper command of various firearms, investigations skills and how to involve the local community in dealing with crime cases within protected areas. The Acting Chief Conservator for NCAA Mr Shaddy Kyambile said the training started on the 10th of February 2012 involving soldiers from nine zones of Olbalbal, Naiyobi, Endulen, Kakesio, Nainokanoka, Lake Eyasi, Ngorongoro Crater, Olmoti Crater and the Northern Highland Forest reserve of Karatu.
"The training also involved female officers who normally work as foreign permit inspectors at the various Tourist Hotels located within the park as well as police officers serving at the Ngorongoro post," said Mr Kyambile. The Public relations Officer at the NCAA Mr Nickson Nyange said the 145 trained officers accounted for 82 per cent of the total army base at the park and that the remaining 18 per cent were to be trained later.